Historical page
The subject of this article is historical and may have been changed or removed. This page exists for documentation.
Please read this article for full details.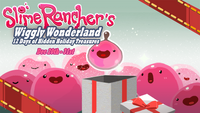 The Wiggly Wonderland event was a date-specific event that ran from December 20th 2017 to January 1st 2018.
Over the course of twelve days, all crates were able to drop Ornaments alongside their standard drops. Which ornament dropped was based on the computer's local date.
Ornaments
On January 1st 2018, all common ornaments had an equal chance of dropping from crates.
| Ornament | In-game model | Wiggly Wonderland |
| --- | --- | --- |
| Pink Ornament | | December 20th 2017 |
| Phosphor Ornament | | December 21st 2017 |
| Tabby Ornament | | December 22nd 2017 |
| Boom Ornament | | December 23rd 2017 |
| Rad Ornament | | December 24th 2017 |
| Honey Ornament | | December 25th 2017 |
| Quantum Ornament | | December 26th 2017 |
| Hunter Ornament | | December 27th 2017 |
| Puddle Ornament | | December 28th 2017 |
| Dervish Ornament | | December 29th 2017 |
| Tangle Ornament | | December 30th 2017 |
| Mosaic Ornament | | December 31st 2017 |
| Tarr Ornament | | Rarely found in place of a common ornament between December 20th to January 1st 2018 |
| Lucky Ornament | | Rarely found in place of a common ornament between December 20th to January 1st 2018 |
| Gold Ornament | | Rarely found in place of a common ornament between December 20th to January 1st 2018 |