The subject of this article is only available during time-limited events so may or may not currently be available in Slime Rancher.
Please read this article for full details.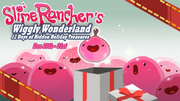 Wiggly Wonderland is a yearly event that takes place through the later half of December.
Past Wiggly Wonderland events (as well as the Twinkle Slime, Chimes, and the Chime Changer) are currently not available on the Plortable Edition.
Events
Trivia
The Wiggly Wonderland event being based around 12 days is based on the Twelve Days of Christmas also known as Twelvetide.