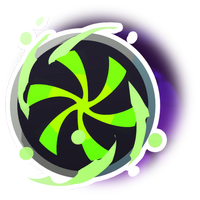 "Try not to think about how it works."
Not what you were looking for? See Static Teleporters.
Warp Tech is a class of gadget utilised in Slime Science for instant transportation, and due to this is among the most useful class of gadgets in the game.
There are exactly three types of Warp Tech:
Teleporters are used to transport the player from one location to another instantaneously.
Warp Depots are used to transport a single stack of items to another location.
And Links are used for player convenience; negating the need to visit the Refinery and Plort Market.
Note that the Market Link does not display plort prices
There are drawbacks, however. With the exception of Links, all Warp Tech is created in a pair. If both gadgets in a created pair are placed down, they will become linked and a linked pair cannot be picked up again, it can only be destroyed and must be crafted again at The Lab. In addition, Warp Tech tends to be expensive, requiring at least one rare resource per pair and an abundant amount of other resources to create.
Finally, when a Warp Depot is demolished or picked up, items inside will be destroyed.
Slimepedia Entry
Warp Tech is a class of Slime Science gadgets that allow you to harness the power of instantaneous travel. It includes teleporters that you can use to create shortcuts, as well as gadgets that allow you to transport items.
Craft warp tech in order to ranch and explore much faster and more efficiently.
Gadgets
Teleporters
Teleporters are utilised to transport the player to another location across the Far, Far Range.
Warp Depots
Warp Depots are utilized to transport items to another location.
Links
Links are used in place of certain facilities to process items, negating the need to go to those facilities directly
Changes
1.3.1b - Fixed a bug where items would sometimes get deleted from warp depots.
1.2.1 - Fixed a bug where Mochi's Manor icon was not appearing on teleporters.

Silos and warp depots now accept ornaments and echoes.
Silo and warp depot slot capacity increased to a whopping 300 units (from 100).

1.0.1 - Added a map interface that gives you a general sense of where you are on the Far, Far Range. Map zones are unlocked after activating map data nodes in each zone. The map will also tracked any teleporters or extractors you've placed, and give you a total count of slime keys and treasure pods collected in each zone.
1.0.0 - Butterscotch Warp Tech added.
0.6.0 - Berry and Cocoa Warp Tech added. Fabricated Teleporters now show the destination of their destinations like Static Teleporters.

New 7Zee Rewards Club rewards have been added to existing ranks, including the handy Market Link, Ultra Dash Boots, and the Golden Sureshot.

0.4.1 - Fixed bug where the red teleporter and warp depot were possible to unlock without acquiring the appropriate treasure pod.
0.4.0 - Implemented along with other Slime Science gadgets into the game.
Gallery