This page contains dialogue for Viktor Humphries


The content below is copied verbatim from Slime Rancher.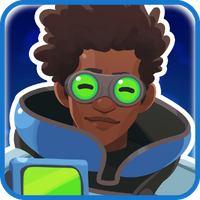 Range Exchange
Are rad slimes a natural evolution or result of exposure to foreign matter?
Have you ever seen a Django's Tiger? Of course not, you can only hear it. Pardon me, that was a joke.
If possible, please acquire the following for a future study. My thanks.
If you listen very closely, you can hear a boom slime's cells vibrate. But don't listen for long.
I'm afraid that one of my studies has gone a bit, well, please just get me these things at once!
First visit
HELLO BEATRIX. THANK YOU FOR TAKING THE TIME TO ASSIST ME WITH THIS PROJECT.
IT IS A MATTER OF GREAT IMPORTANCE THAT-
IS SOMETHING...?
...
!!!
My apologies. I am in the middle of some, er, delicate work and I sometimes forget I am wearing my immersion field.
Now then, the matter at hand: I need some assistance testing an in-development, simulated reality of the Far, Far Range. I am attempting to use this simulation to predict slime behaviors and evolution.
Alternatively, you could call it... a SLIMEULATION.
...
Hm... I had calculated a response of at least a mild chuckle from that wordplay.
But no matter! Let's proceed: my Slimeulation is an infinitely complex project that could be the key to understanding slimes on a level we've never dreamed!
HOWEVER!
...it is sadly riddled with bugs.
Well, not bugs per se. Technically speaking they are a flawed simulation of a slime that has discovered a way to replicate. Fascinating in its own right, but very much disrupting my studies.
I call these entities glitch slimes. And I need you to help me collect them for study.
Here's how it works: enter the Slimeulation and begin exploring. Your goal is to collect glitch slime which will automatically be turned into bug reports upon exiting the Slimeulation.
However, this is easier said than done. Glitch slimes have exhibited a curious behavior of conforming to their surroundings, perhaps... to avoid detection from me? It is not clear.
Refocusing the discourse: glitch slimes will look like normal slime largos and objects within the environment, though something is usually off about them.
To reveal them, vac up the largos you suspect, and use my handy Debug Spray on suspicious objects in the environment.
As a reward for your efforts I'll grant you manifold cubes, a special, multipurpose resources I invented, which you can use for fabricating unique gadgets from the blueprints you'll find in the Slimeulation.
And as we conclude each major phase of our work, I'll also grant you additional rewards, but more on those later.
My research has determined that adding mystery to reward mechanisms incentivises participants to try harder.
Oh, and this is really not terribly important and I'm certain it's quite nearly under control but...
...due to a data corruption in the Slimeulation there will reach a point where tarr-like entities will begin appearing and taking over the Slimeulation and you should really get out right away.
When this occurs I'll be sure to signal a beacon on the first available location where you can safely log out. Just follow the exit markers when you see them. They'll lead you to the exit portal.
Okay? Great! Glad you have no questions at all! Especially about that last bit. So let's get to work!
Until the first trade is completed
Hello again. I hypothesize that you're seeking another summary of how to engage with the Slimeulation? Given the complexity of the task it is most understandable.
Step 1: Enter the Slimeulation and begin looking for glitch slimes. They will be disguised as largo slimes or objects that will seem out of place.
Step 2: Vac up suspicious slimes and use Debug Spray on suspicious objects to reveal glitch slimes.
Step 3: Vac up glitch slimes, avoid taking damage, and most of all avoid the tarr-like corruption that I PROMISE to fix as soon as possible.
Step 4: When the exit portal opens, follow the exit markers to the portal and safely log out of the Slimeulation.
Step 5: The glitch slimes in your vac tank will have automatically converted to bug reports. Turn them in and be rewarded with invaluable scientific data! And other rewards too... but the data!
Please note that in the interest of efficiency I have recorded this exchange and should you call again during this phase of the project, I will simply replay this recording.
Hm, but that last part is not material to the instructions and should probably be edited out...
As should the last statement I just made about editing the previous statement and-
...
Thank you, Beatrix. Goodbye.
Completing the first trade
HELLO AGAIN, BEATRIX. I AM CURRENTLY IN THE MIDDLE OF IMPORTANT WORK AND REQUIRE FOCUS TIME FOR THE NEXT SEVERAL MINUTES.
THEREFORE I HAVE CONTRACTED OUT THE PHASE 1 REWARD DISTRIBUTION TO A SCIENTIFIC COLLEAGUE OF MINE.
CONNECTING YOU NOW.
...
......
HALLLooo
...
chikken?
...
cHckkN = ?
chikKn = Chkken + chiKkN!
...
...
...
Now then, I trust that my colleague compensated you well?
Hm? No, I've never actually met him in-person, but that's not unusual for me.
You see, I generally run simulations for everything I can in my life, including relationships with others.
You might think this is perhaps... too clinical of an approach? But I can assure you, it saves a significant amount of time.
And time is so valuable! And so very finite... It is the singular cruelty of nature. So why waste a second of it building a friendship that ends? Or a romantic interest that leaves you cold? Wasteful.
So I simulate it all and determine where it is likely to lead. It is all very precise, and allows me to operate on a timeline that is most optimal.
But clearly there are still kinks to work out as the simulation I ran of you assisting me had you completing phase 1 much later than the actual result. How odd...
I'll add fixing this issue to my agenda. In the meantime, let's begin phase 2 of the project.
The bug reports you've submitted so far are fascinating. Within the limits of the Slimeulation, glitch slimes appear to be very much 'real.'
I need to know more. Gather more bug reports and I'll grant you access to blueprints for my custom advanced drones! They're double effective at ranch work. Efficiency!
...
......
Sorry, I often forget about goodbyes. Um, goodbye... for now.
Until the second trade is completed
That's odd. Someone hijacked my connection. I'll have to look into that later.
Now then, do you need something? I've updated my simulation projections for this phase and I'm confident they will be accurate.
They have even accounted for this exchange. Even if I- I- AAAAAACHOOOO!
PERFECT!
My projections included that sneeze based on rising dust levels in my lab.
Looking forward to your results. They should prove to be-
Completing the second trade
...
Hm... something is not right. Not right at all.
The simulation I've been running to predict your performance on this project is not matching your results at all. How is this possible?
I rely on my simulations for everything and they have always made life easier, but what if they're wrong? Or what if...?
What if some other element exists that even I can't simulate?
I would need to create an entirely new formula to compensate for this finding!
And what would that mean for my previous simulations? All the experiences and people I've passed on because...
I need to think on this.
I've added my advanced drone blueprint to your Lab. It should prove very useful to you according to my calculations.
Well, I hope so at least. Now I-
I need to think on this right away.
...
BUT PLEASE COLLECT MORE BUG REPORTS IN THE SLIMEULATION.
I AM VERY CLOSE TO ISOLATING THE SOURCE OF THE BUG THAT IS RESPONSIBLE FOR PRODUCING GLITCH SLIMES.
IN RETURN I WILL PREPARE A SUBSTANTIAL REWARD FOR YOU.
RUN DIAGNOSTICS ON SIMULATION 392296
USERNAME: VHUMPHRIES
PASSWORD: MURPH-
!!!
...
I'm sorry. I slipped into my work again without saying goodbye.
Looking forward to your results. Goodbye.
Until the third trade is completed
HELLO AGAIN. DO NOT WORRY, I CAN EASY MANAGE INTERFACING WITH YOU AND WORKING.
ISOLATE SLIME SPAWN NODE 58.42.19B. DISPLAY SPAWN TYPE ARRAY. CROSS REFERENCE WITH SPAWN NODE 58.43.19A
AS MENTIONED PREVIOUSLY, PLEASE COLLECT MORE BUG REPORTS. I AM VERY CLOSE TO DISCOVERING THE SOURCE OF THE BUG IN MY SLIMEULATION.
CREATE PROXY MESH OF LOWER DRY REEF ZONE ID 44-G. REPLACE SLIME SPAWN NODES WITH THOSE FOUND IN PROTOTYPE DATABASE.
SO PLEASE RETURN TO THE SLIMEULATION AS SOON AS POSSIBLE. I'VE ALREADY BEGUN FABRICATING MORE MANIFOLD CUBES IN ANTICIPATION OF YOUR WORK.
RUN SIMULATION.
GOODBYE, BEATRIX.
END TRANSMISSION.
Completing the third trade
Hello Beatrix. Good to see you again. The bug reports you have been collecting have been most illuminating.
With your help, I've isolated the source of the glitch slimes and have a fix in place for removing them in order to continue my work on the Slimeulation.
But first, I must tell you something.
I've determined that the simulation I've been running on your performance with this project isn't wrong at all.
Though true it projected seemingly incorrect results, it was missing a crucial datapoint...
...that the universe can surprise you.
Until I observed your willingness to help me, a stranger really, and then your tenacity within the Slimeulation, I thought people and their abilities were much more predictable.
But you've shown me that all the data in the world still won't account for the spark in all humans that motivates them.
And this doesn't mean attempting to project and learn with scientific process isn't worth pursuing! Quite the opposite, in fact.
But it is important that we- that I, remember that the unexpected still has value.
I... I regret that I have not seen this until now.
Had I not simulated relationships and simply let them surprise me, then perhaps I would have connected with a lot more people in my life.
So with that in mind, I do hope you will continue to stay in touch. And to encourage this, I am giving you ownership of my workshop.
Additionally, I have decided not to fix the bug that created glitch slimes.
It would seem to me that this very unexpected result is worth keeping, worth studying.
So let's just see where it goes. Who knows, though my Slimeulation may not be a perfect recreation of the Far, Far Range, it has its own merits because it's so different.
In that sense, it is a very exciting discovery!
So please continue to collect bug reports so that I may continue to study glitch slimes. And I will continue to give you manifold cubes for your efforts.
But also, perhaps we could occasionally just chat. You can pick the topic.
I think I would very much enjoy that.
After having completed all the trades
Hello Beatrix! It's good to see you again.
I have been continuing to monitor the behavior of glitch slimes. It seems that even without updating my Slimeulation code, they continue to evolve!
It will be exciting to see where their life takes them next.
On a similar note, I wanted you to know that I have begun a starmail exchange with an old acquaintance of mine.
We have little in common, disagree on several scientific topics, they are very slow to reply and I find that especially irritating, but we both adore the same music.
It is wonderful.
Please feel free to continue your work within the Slimeulation. And I do hope you're finding my workshop most useful.
I look forward to seeing what you do with it, whatever that may be.
Community content is available under
CC-BY-SA
unless otherwise noted.