This section or article is incomplete.
Reason:
Needs in-game screenshots of each area.
You can discuss this in the article comments or edit this page to improve it.
VR Playground, also known as Slime Rancher: VR Playground, is a free, standalone DLC for Slime Rancher jointly developed by Monomi Park and 3lb Games which was released on November 14th 2018 on PC. The content requires the HTC Vive or Oculus Rift to play.[1]
When installed, the game must be launched in Oculus VR mode or Steam VR mode from the Steam Library.
Introduction
VR Playground uses maps unique to the VR experience, and behaves much like a sandbox. Each map is based on a specific zone of the main game, and will spawn resources and slimes unique to that zone, if applicable. Each map is closed in with invisible walls.
The player has no Health bar and as such are impervious to slimes which are normally harmful. The Plort Market is completely absent, so plorts can only be used to intentionally cause Largo Slime transformations, and despawn much more quickly in this mode. Largos do not eat plorts, so will not cause Tarr to appear. The player cannot jump or utilise the jetpack, and the Vacpack slots hold 20 units with no Water Tank upgrade. Beatrix's free hand and vacpack are controlled directly by the VR controllers.
Areas
The Lab - Hub
The Lab. It is located in a barn very similar to The Lab's. As a hub map, it contains three teleporters to the other maps.






The Dry Reef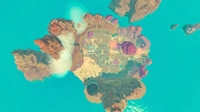 The Dry Reef map contains three prebuilt plots containing two Corrals - one basic and one upgraded - and a Coop.






The Moss Blanket
Corrals - one basic and one upgraded - and a Coop.
Gallery
The Ancient Ruins
Corrals - one basic and one upgraded - and a Coop. Unlike the main game, Phase Lemon trees are not incorporeal.
Trivia
Prior to release, the development roadmap teaser stated: A VR Playground will be released on Steam as free DLC for Slime Rancher in the fall of 2018! The VR Playground allows you to experience a little bit of Slime Rancher, hang out with slimes, or just sit in the flowers and relax.
According to Chris Lum, there is a hidden area in VR Playground.[2]
References
↑ https://store.steampowered.com/app/939480/Slime_Rancher_VR_Playground/ - The Steam Store page explains it requires a VR headset to play the content.
↑ https://twitter.com/coinopthinktank/status/1062818078528962560 - Chris Lum teases the existence of a hidden area within VR Playground.
5 messages

i dont know about side loading it, but it should work with quest link. And sence oculus link works with the included charging cable, you dont n...

Okay.
Community content is available under
CC-BY-SA
unless otherwise noted.