So, if any of you saw my post from last year, you may know that I have a largo who I spoil. She is a mosaic tabby largo and she is my little princess. As the holiday season is fast approching, I need to find her good presents. She already has almost all the slime toys and I bought her the last set of the ones she doesn't have. She also already has her own personal drone.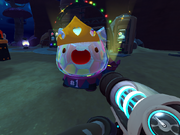 I saved a bunch of spicy tofu and stony hens for her, and I made her a towering glass sculpture. I'm working on getting the new DLC, so i can get her the new fashion pod and toy. I'm also working on decorating the little island in the dry reef that looks like the moss blanket, so we can go on a vaccation. But even with all that she wouldn't get as many presents as last year. So, I was wondering if anyone else has ideas for gifts to get a slime. Thanks for reading!
Community content is available under
CC-BY-SA
unless otherwise noted.