Hello, Ranchers!! Welcome to my page. I can help you with anything, especially tips on keeping a great ranch and earning lots of Newbucks.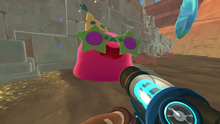 My FAVORITE slimes!!
Fire slime
Hunter slime
My Gordos (yes I have Gordos decorating my ranch)
-Pink Gordo (Lab)
-Honey Gordo (Grotto)
-Pink Gordo (Ranch)
-Hunter Gordo (Ranch)
My... Expertise
I will help you in any way, but I am really good at:
-What slimes to get
-How to earn a lot of Newbucks
-The best ways to get LOTS of Slime Science Gadgets
and
-A lot more :)
Community content is available under
CC-BY-SA
unless otherwise noted.