NOTE FROM SOMEBODYELSE314 (a friend, don't worry RosieDoggie gave me permission) RosieDoggie is very rarely on this wiki during the summer, any chats or messages should go to me at User:SomebodyElse314 so I can tell Rosie.
Hello, Ranchers!! Welcome to my page. I can help you with anything, especially tips on keeping a great ranch and earning lots of Newbucks.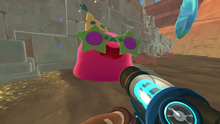 My FAVORITE slimes!!
Fire slime
Hunter slime
My Gordos (yes I have Gordos decorating my ranch)
-Pink Gordo (Lab)
-Honey Gordo (Grotto)
-Pink Gordo (Ranch)
-Hunter Gordo (Ranch)
My... Expertise
I will help you in any way, but I am really good at:
-What slimes to get
-How to earn a lot of Newbucks
-The best ways to get LOTS of Slime Science Gadgets
and
-A lot more :)
Community content is available under
CC-BY-SA
unless otherwise noted.