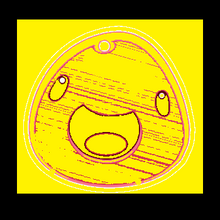 Hi. I am a Little Vanille-NYI Largo and i can´t wait for Nimble Valley!!
My Favorite Things in Slime Rancher:
Prickle Pear
Crystal Slime
SIENCE!!!
Tangle Slimes SO MUCH CUTENESS!!!
Gold Slime
Gold Plort
Mosaic Slime
Echoes
And if it had not been removed, then the meteor also determined Slime
Rad Slime
Rad Plort
Slimepedia
Gordo Slimes
Gordo Snares
Ornaments
My favourite Slimes:
#5 Phosphor Slime They are much cuteness, that's it.
#4 Honey Slime The Slimepedia Icon is so cute!
#3 Crystal Slime Shiny!!! And dangerous...
#2 Dervish Slime I like Dervishes! I don't know why, but I like Dervishes!
#1 Tangle Slime CutenessX5!!! Same Thing with Puddle Slime's old look, I don't understand why a blue Pink Slime with a blue mouth inside is cuter than a cute, shy puddle. (That doesn't mean, that I hate the old design. It's cute, just cute.) You can answer on my Wall. (This is no marketing!!!)
Community content is available under
CC-BY-SA
unless otherwise noted.