The Trickiest Treasure Pods: Tips & Tricks
Play Sound
Treasure Pods are spherical objects found dotted around the Far, Far Range. Each one will reward Beatrix with a unique blueprint for Slime Science gadgets, a Decoration, 3 Slime Science Resources, or - more rarely - 3 Golden Plorts. They are usually found in out of the way spots and can be only opened once per game.
Opening them
To open Treasure Pods, you must obtain Treasure Crackers from the Vacpack upgrade terminal.
There are three tiers, each opening more advanced Pods:
The Treasure Cracker MKI allows you to open Green Pods; it will become available once The Lab is unlocked and your first gadget has been crafted. It costs 4,500

.

The Treasure Cracker MKII allows you to open Blue Pods and will become available after the MKI Upgrade is purchased and a total of 20 Gadgets have been crafted in The Lab. It costs 9,000


The Treasure Cracker MKIII allows you to open Purple Pods and becomes available after the MKII Upgrade is purchased and a total of 50 Gadgets have been crafted in The Lab. It costs 25,000

.
It is not necessary to use the gadgets you create to unlock the Treasure Crackers.
Treasure Pod locations by zone
Click on a zone below to view its individual Treasure Pod locations
Secret Style Paid DLC
Map
This map contains all of the Treasure Pod locations in a single image.
(Except Ogden's Retreat, The Wilds, Nimble Valley, and The Slimeulation due to the lack of a map)
Note that while these locations are precise, they may be on different elevations.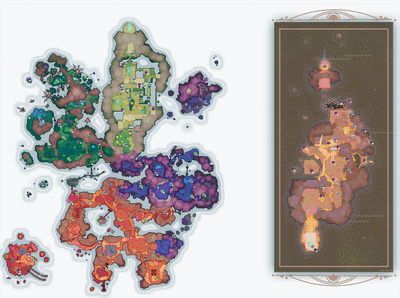 Changelog
1.4.2- The Treasure Pod for the Party Fashion Pod was added in the Ancient Ruins Transition, and the Treasure Pod for the Scuba Fashion Pod behind The Grotto.
1.4.1b - The Green Treasure Pod behind The Lab barn is now inside the barn.
1.4.0 - Lowered gadget fabrication requirements to unlock Treasure Cracker Mk II (from 35 to 20) and Mk III (from 100 to 50). Added Treasure Pods to The Slimeulation, and paid DLC which adds Secret Style Pack treasure pods.
1.2.0 - Added Treasure Pods to Nimble Valley.
1.1.0 - Added Treasure Pods to The Wilds.
0.6.0 - Added Treasure Pods to The Glass Desert.
0.5.0 - Added Treasure Pods to The Ancient Ruins.
0.4.2c - Another bug related to treasure pods was discovered that required another quick patch. You may experience certain pods are re-closed., but just as before, this should not negatively impact your game in any way.
0.4.2b - We discovered a bug that caused old treasure pods to close again following the release of v0.4.2 and have issued a fix. If you have a save file with the pods re-closed you simply have to open them again if you wish to have all pods opened. This will not cause any other issues with your save file. All blueprints you had previously received will remain available to you.
0.4.0b - Fixed already-open treasure pods replaying their effects on reloading a game, because the party must eventually end.
0.4.0 - Implemented.
Trivia