The Trickiest Treasure Pods: Tips & Tricks


Featured Video
The video at the top of this page was installed by FANDOM and not by the administrators of the Slime Rancher Wiki. It cannot be removed, and information presented in the video may be outdated or incorrect.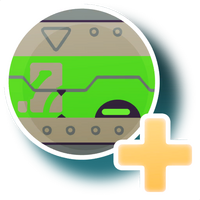 Treasure Pods are spherical objects found dotted around the Far, Far Range. Each one will reward Beatrix with a unique blueprint for Slime Science gadgets, a Decoration, 3 Slime Science Resources, or - more rarely - 3 Golden Plorts. They are usually found in out of the way spots and can be only opened once per game.
Opening them
To open Treasure Pods, you must obtain Treasure Crackers from the Vacpack upgrade terminal. There are three tiers, each opening more advanced Pods:

The Treasure Cracker MKI allows you to open Green Pods; it will become available once The Lab is unlocked and your first gadget has been crafted. It costs 4,500

.

The Treasure Cracker MKII allows you to open Blue Pods and will become available after the MKI Upgrade is bought and a total of 35 Gadgets have been crafted in The Lab. It costs 9,000


The Treasure Cracker MKIII allows you to open Purple Pods and becomes available after the MKII Upgrade is bought and a total of 100 Gadgets have been crafted in The Lab. It costs 25,000

.
It is not necessary to use the gadgets you create to unlock the Treasure Crackers.
Treasure Pod locations by zone
Click on a zone below to view its individual Treasure Pod locations
Map
This map contains all of the Treasure Pod locations in a single image.
(Except Ogden's Retreat, The Wilds, and Nimble Valley, due to the lack of a map)
Note that while these locations are precise, they may be on different elevations.
Trivia
All of the Treasure Pods have the mark of the 7Zee Corporation.
Treasure Pods will perform their opening animation again - but will not grant their rewards again - if the player re-enters an area that had previously de-rendered.
There are no Green treasure pods in The Glass Desert.