This page contains spoilers!
There are important lore-related or super-secret details on this page.
Only continue reading if you're totally okay with that.
"
As a little thank you, I've activated three secret vaults that I built years ago to stash a small fortune of mine. I had always planned on using it as walking around money in the great beyond, but I ain't needing for that no more.
"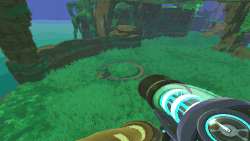 The Vaults is an unofficial term for a series of locations built by Hobson Twillgers before the events of the game. They are initially inactive, appearing as normal circular ground decorations, and cannot be accessed. Hobson activates them for the player after the end credits, which is triggered by reading the final Hobson Note in The Glass Desert, revealing that they are long tube-like constructions with teleporters contained within.
There are three vaults, each containing a Slime Gate within that require a Slime Key to fully access. Once open, multiple Purple Treasure Pods can be found, each containing a large number of Gold Plorts.
The vaults each have a one-way Static Teleporter back to The Ranch.
Each of the vaults has openings that lead directly to the Slime Sea.
Locations
Map
Gallery
Trivia
The Feral Path Vault contains Gold Slimes. It is recommended not to visit this vault until obtaining the Golden Sureshot since the spawns are one-time only.
A total of 403 Gold Plorts can be obtained from the vaults, not including from the Gold Slimes that spawn in the Feral Path Vault. If sold at the minimum price, selling all of the gold plorts will net 41,106. If sold at maximum price, it will net up to 265,174.
In Rush Mode the entrances to the Vaults are absent, instead being replaced by a Gold Gordo.
All of the vaults located in each zone are in locations that were introduced after the zone's initial release.
None of the vaults contain any Gadget sites.
The World Map does not recognize the areas of the vaults, showing them as in an Unknown location. The true in-game location of the Vaults is far away from the main landmass, relatively close to Crystal Volcano
The insides of the vaults use assets from The Ancient Ruins.