"
Virtually better than the real thing.
"
 
The Slimeulation is an area associated with Viktor Humphries which was released in Update 1.4.0.
Slimepedia Entry
The Slimeulation is an in-development, virtual re-creation of the Far, Far Range created by Viktor Humphries. The goal of the Slimeulation is to predict slime behaviors and evolution, but unfortunately it is riddled with bugs in the codebase which have produced a curious anomally known as glitch slimes.
Viktor is now seeking a partner to enter the Slimeulation, wrangle glitch slimes out of hiding, and file valuable bug reports.
Natural Resources
Note: None of these resources can be taken out of The Slimeulation. Slimes that appear have a chance to be a glitch slime variant, and can spawn as a largo. Gold Slimes and Lucky Slimes will always be a Glitch Slime.
Glitch Slimes are converted to Bug Reports when logging out.
| Name | Resources |
| --- | --- |
| Slimes | • • • • • • • • • • • • |
| Food | • • • • • • • • • • • • • • • |
| New Slimes | |
| Other | • |
Introduction
Glitch Slimes
, which will convert to
Bug Reports
on exiting the Slimeulation through any of the available exits that open up when enough time has passed.
The Slimeulation is a mish-mash of the original areas from
The Dry Reef
,
The Indigo Quarry
, and
The Moss Blanket
released prior to
Update 0.3.5
, with a very unfinished and untextured virtualised twist. Each area spawns slimes native to that area much like in the overworld, and areas that were later added to Slime Rancher, such as
Crystal Volcano
, are nonexistent in the Slimeulation, and the entrances are covered with unfinished blocky textures.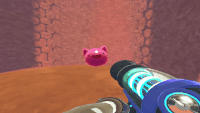 Despite the presence of
Food
within the Slimeulation, the slimes within do not eat and therefore do not produce
Plorts
, so no
largo transformations
- although largos will spawn naturally - or
tarr outbreaks
occur. Slimes will also always be Elated, and are not subject to
Hunger
and
Agitation
, but can and will experience
Fear
. Any slimes or resources vacced up will have their
Slimepedia
entries unlocked, if they were not unlocked already; this includes the
Lucky Slime
and the
Gold Slime
.
Starting the activity
The Slimeulation is accessed through the large terminal within Viktor's Workshop which requires a clean inventory; there are four storage receptacles to the left of the entrance teleporter with which to deposit items. Note that Slimes cannot be stored, so must be left to roam the area.
When logging into the Slimeulation, you are transported to an entrance point in any of the zones, and music is an 8-bit variant of the equivalent song in the overworld. At this point, you are free to explore the area as you see fit, and there is no time limit.
Debugging the Slimeulation
Debug Spray
Main article: Debug Spray

Debug Spray is a finite resource which is obtained from green resource nodes found throughout the Slimeulation. It is used to pull Glitch Slimes from their disguises and can be used to combat against Digitarr. 15 units are given at a time, is stored in the water tank and replaces water if any remains within the tank, and caps at 30 units regardless of storage upgrades.
Debug Spray will not respawn when collected until leaving the Slimeulation, and it is required to expose out-of-place objects.
Glitch Slimes
Main article: Glitch Slime

Community content is available under
CC-BY-SA
unless otherwise noted.