"
A dark and gloomy cavern above the sea and a likely first chapter to that novel of yours.
"
 
The Grotto is a Ranch expansion set in a dark cave. It is themed after The Indigo Quarry. The teleporter to Mochi's Manor sits just inside the entrance.
The Grotto is an expansion to the ranch set inside a (slightly spooky) cave that allows a rancher to care for light-sensitive slimes without the need for a solar shield. Never has a phosphor slime felt so liberated.
Usage
The interior of the Grotto is dark and closed in, and is split into two halves; an elevated area and a lower area, seperated by steep steps and a ramp which most slimes have difficulty navigating.
The perpetual darkness of the Grotto opens up the option to keep Phosphor Slimes without a Solar Shield - which normally despawn in daylight without one - and Mosaic Slimes which attract other slimes when exposed to daylight. The enclosed space of the Grotto and presence of the lower area also makes it ideal for keeping Harmful Slimes, and slimes with particularly tricky negative behaviors when agitated, most notably Quantum Slimes and Dervish Slimes. Due to the Grotto's twisted exits and enclosed space it may also suitable for keeping slimes free range, since it is highly unlikely any will escape.
The entrance at the back leads to a Static Teleporter going to The Indigo Quarry, however the Rock Gordo must be burst to activate it. There is also another Static Teleporter at the front entrance that leads to Mochi's Manor, but you need to do some tasks before activating it.
Sub Areas
Spring Archipelago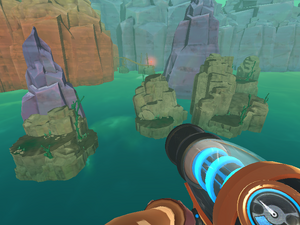 Going out of the back tunnel of the Grotto leads to the Static Teleporter to the The Indigo Quarry. Off to the left of that area is the Spring Archipelago, a series of islands which leads to Feral Sink. The jetpack is required to navigate through the islands.
There is nothing of note on these islands except an infrequent spawn of Pink and Phosphor Slimes, two Cuberry trees, and a Night Light Slime Toy.
Gallery
Changelog
1.4.2 - Added auto-save checkpoints after: a Slime Gate is opened, a Ranch Expansion is purchased, and a 7Zee Rewards Club level is purchased.
1.4.2 - Added a Blue Treasure Pod containing the Scuba Fashion Pod.
1.2.0 - A Teleporter to Mochi's Manor has been added. It requires unlocking The Indigo Quarry, purchasing The Grotto and doing at least one trade with Mochi before it can be activated.
0.3.0 - The Overgrowth and Grotto now include two-way teleporters to other areas of the range. However, the gordos blocking the other end need to be dealt with first...