Why the Glass Desert is a Peek Into the Future
Play Sound
"
Under a blistering sun, prismatic giants evoke beauty and peril.
"
 
The Glass Desert is an instanced zone that was added in Update 0.6.0. It can only initially be accessed from the mainland by the teleporter in the far north of The Ancient Ruins, but can be accessed later by Player-made teleporters. The teleporter may be opened by shooting a quantum plort at each of the five slime statues.
The Desert is a barren wasteland covered with giant glass structures theorised to create regularly-occuring Solar Anomalies. On the initial visit, fountains and oases are dried up and need to be restored to gain access to Water, Food, and the many slime varieties the Desert keeps closely guarded.
Two Gilded Ginger can be found in 74 locations per day.
The Glass Desert is mostly uncharted territory within the Far, Far Range, located so far beyond the ranch it is only accessible via teleportation.
The Glass Desert gets its name from the monolithic glass structures that dot its landscape. Resembling prismatic, frozen flames, these glass structures are believed to have been created during a violent solar event, scorching the land and stone into glass. These glass structures are also believed to be the catalyst for the dangerous solar anomalies that regularly occur in the Glass Desert: firestorms that burst from the ground, as if intense heat is desperate to escape the ground below.
But the desert's barren, unforgiving, sometimes violent environment hides a secret: somewhere deep within it lies a memory of what once was, and a means of restoring parts of that memory.
Natural Resources
*Note that Tabby, Puddle, Phosphor, Hunter, Boom, and Tangles-besides from crates and their gordo- will only spawn when certain oases have been restored.
Points of interest
Fountains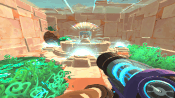 Main article: Fountains
Around the Glass Desert are dried-up fountains which can be reactivated to rejuvenate Oases. They are activated by three Plort statues near the fountain with a specific slime's Plort.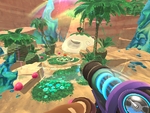 Main article: Oasis
Oases are special areas that only appear once the oasis buds found throughout The Glass Desert have been splashed with Ancient Water.
Treasure Pods
Main article: Treasure Pods/The Glass Desert


The Glass Desert has Treasure Pods which contain gadgets, Slime Science Resources, Decorations, and Gold Plorts.
Changelog
Trivia
The Glass Desert appears to be based off of the Libyan Desert, where there are massive amounts of naturally occurring glass in the sand with uncertain origins. The glass structures dotted around the desert may also be based on fulgurite; glass tubes formed when lightning strikes soil, sand, or rock. Fulgurite is sometimes referred to as "petrified lightning", which some of the structures resemble. The Thundering Glass Sculpture decoration in particular heavily references this.
The achievement Smoke, Fire, and Mirrors was implemented long before The Glass Desert was introduced, making it impossible to legitimately achieve until Update 0.6.0 was released.
The Meteor Slime was intended to spawn in the desert, it was scrapped because the slime wasn't "working" but it is replaced by two slimes. However, it is unknown if it will come back in the future.[1]
This is the area that houses the most slime varieties, ranging from 15 different kinds of slimes (including The Tarr) overall.
The Glass Desert has a few traits unique to it:
References