Slimes: Everything You Need to Know
Play Sound
"
Woohoo! Woo! Whoa! Ahaha! Whee!
"
 

— Slimes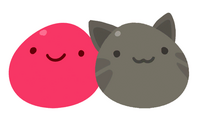 Slimes are gelatinous, ball-shaped, adorable alien creatures that live on the far away planet called the Far, Far Range. They are a key element within the game since they are responsible for the production of plorts that are used to make money, create gadgets, and unlock areas in the game.
There are several different species of slimes, each found in certain locations on the Far, Far Range. Though their most common features are the permanent happy expressions they have on their faces when fed and their high pitched voices, each type of slime has a unique trait that is used to identify it. Nearly all pure slimes are capable of stacking.
Each Slime—except the Pink, Puddle, Fire, Saber, Lucky, Quicksilver, Glitch, Tarr, and Twinkle Slimes—has a unique favorite food, which when fed to the appropriate Slime doubles the plorts they produce. All slimes except for Puddle, Fire, Lucky, Quicksilver, Glitch, Tarr and Twinkle slimes can be converted into Largo Slimes to increase production even further.
All standard farmable slimes are subject to hunger and agitation, and can experience fear under certain circumstances.
Docile Slimes
These Slimes cannot harm you under normal conditions unless feral.
The standard risk of Tarr outbreaks is not taken into account for this categorization.
Harmful Slimes
These Slimes can harm the player in some way regardless of whether or not they are feral.
The standard risk of Tarr outbreaks is not taken into account for this categorization.
Special Slimes
These slimes are a category of their own from the standard slimes.
Hostile Slimes
These Slimes will actively try to attack you.
Confirmed for Slime Rancher 2
These slimes are set to appear in Slime Rancher 2 based on public announcements.
Scrapped Slimes
This Slime was intended to be implemented into the game but was ultimately cut.
Secret Style Pack
Main article: Secret Style Pack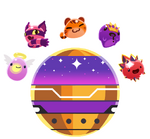 | | | |
| --- | --- | --- |
| " | Includes secret new looks for your slimes. Make your phosphor slimes angelic, your tabbies look like tigers, and more! | " |
The Secret Style Pack is a paid cosmetic DLC which switches pure and largo slime appearances between their classic and secret style appearances.
Trivia
Slimes blink once every 0.5 to 4.5 seconds.
You can slime jump, by shooting a slime underneath you and jumping on it. This can be used to get to higher areas.
Under certain circumstances, such as being vac'd up, or in the presence of a Mosaic Slime, Slimes will become surprised. This only happens if they are well-fed.
References