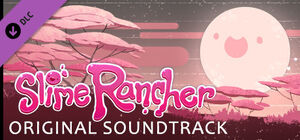 The Slime Rancher: Original Soundtrack is the first official song album of Slime Rancher, released August 1, 2017 along with the Official Release of the game. It is available for purchase on Steam as the game's DLC content, and Bandcamp.
All songs in this soundtrack are composed by Harry Mack, with the exception of 1,000 Light Years Away; Chelsea Lee Greenwood is credited as the artist instead.
There are a total of 37 songs currently available in this album, with a further 22 released on December 14 2019 in the Slime Rancher: Original Soundtrack II + The Casey Sessions. Some are not played during gameplay, but exist in the game files or used during release trailers.
Official Soundtrack List