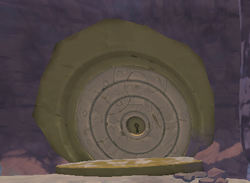 "These gates often lead to expansive, new areas
to explore or create shortcuts to familiar areas."
"
No one knows who or what created the ancient slime gates that are found on the range.
"
 
Slime Gates are large stone doors found dotted around the Far, Far Range which block access to areas containing new Slimes, Food and Slime Science Resources. To open them, they require a Slime Key, which are obtainable by bursting certain Gordo Slimes.
Opening Slime Gates are necessary for game progression in Adventure Mode, as certain Vacpack upgrades and Casey StarMails only unlock when a certain number of slime gates have been opened.
Map
Community content is available under
CC-BY-SA
unless otherwise noted.