"
Like a carrot's rich, sophisticated cousin. Also, it's silver.
"
 
The Silver Parsnip is a veggie that is found exclusively in The Glass Desert.
They are relatively rare until certain oases are restored; notable locations to find a Silver Parsnip patch include the tunnel leading to a Dervish Plort statue, by the Cocoa Slime Lamp Treasure Pod, and in the Hobson End Temple in the far north of the Glass Desert, near Hobson's final note. Once its nearby oasis has been restored, a patch spawns behind the Tangle Gordo building. They can also be found in crates in The Glass Desert.
About:
Despite their slightly metallic aftertaste, these shimmering root veggies are considered a delicacy by gourmands across the galaxy. On the Far, Far Range, ranchers often eat them during the holidays, to bring good fortune in the coming year.

On the Ranch:
Deposit a Silver Parsnip into a garden's depositor and you'll have a large Silver Parsnip crop of your very own.
Tips
Silver Parsnips are easy to grow and harvest while Mosaic Plorts are high in value, making it one of the best Veg/Slime combinations in the game financially. It shares this trait with the Dervish Slime and its favored Fruit, the Prickle Pear.
Map
Note that this map does not include locations of Silver Parsnips that are spawned with an Oasis, and are on the map regardless of game state. More Silver Parsnip nodes are spawned with Rock Oasis 3, Mosaic Oasis 3, and Dervish Oasis 2.
Also note that while these locations are precise, they may be on different elevations.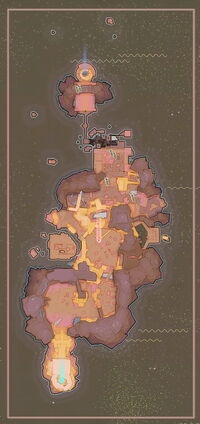 Gallery
Changelog
0.6.0 - Implemented.
0.3.1 - Fruits and veggies and fruit trees have received a lovely makeover and are now more visually distinct. The cuberry tree is now cube-shaped because science.
Origin
The Silver Parsnip's name and the mention of gourmands in the Slimepedia entry may be a loose reference to the "Silver Palete" series of cookbooks, written by Julee Rosso and Shiela Lukins between 1979 and 1995. The mention of ranchers eating Silver Parsnips during the holidays to bring fortune for the coming year may be a reference to the Chinese New Year; a 15-day festival where tradition and fortune plays a heavy role. Physically it is a parsnip with a clean silver finish, giving it the appearance of having been treated with food color spray, similar to the Gilded Ginger.
Trivia
The Silver Parsnip's in-game model once resembled a silver carrot prior to food's graphical update in Update 0.3.1. However, their Slimepedia icons continue to resemble one another.
The Slimepedia claimed the Silver Parsnip was the Meteor Slime's favorite food until Update 0.6.0b when it was correctly changed to the Mosaic Slime.