Under Construction
This may be due to a recent update, is undergoing a major overhaul, is brand new, or is insufficient and may not yet fit in with the wiki. Any information posted here may not yet be completely accurate.
Please help contribute to this page by adding information and photos to it.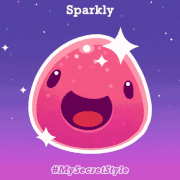 The Secret Style Pack is an upcoming paid cosmetic DLC pack available on all platforms[1][2] which will toggle slime appearences between its standard appearence and a new cosmetic one in the Ranch House.[3] Largos can be tweaked between both its slime variants. Tarr Slimes and plorts will not receive a cosmetic change.[4][5], and Gordo Slimes will not have cosmetic appearences at launch.[6]

Each pack will be locked within a Treasure Pod which must be opened to unlock a cosmetic skin for each of the existing Slimes in the game.
References