"
Includes secret new looks for your slimes. Make your phosphor slimes angelic, your tabbies look like tigers, and more!
"
 

— the Manage DLC tab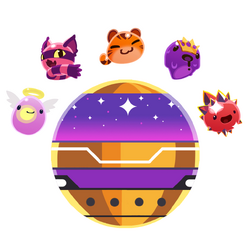 The Secret Style Pack is paid cosmetic DLC pack available on Steam, Epic Games Store, Playstation 4, and Xbox, and comes bundled with the Nintendo Switch Plortable Edition.
The Pack introduces new cosmetic models for each of the slimes and their largo variants which can be mix-and-matched, offering up to 3 new models per largo.
Usage
When the DLC is installed, twenty gold-and-purple Treasure Pods will appear throughout the world which must be opened to unlock a cosmetic skin for most of the existing Slimes in the game. Unlike standard pods, they do not require a Treasure Cracker to open. The Pack does not alter any other characteristic about the slime, such as a Hunter Slime turning invisible, a Rock Slime rolling, or a Phosphor Slime's reaction to light.
When a slime's cosmetic skin has been unlocked it is automatically applied to slimes of that type. If the player leaves the area before it opens however, the Secret Style will still unlock without a prompt or changing the slime's appearance. Unlocked Secret Styles can be toggled on and off at any time via the Secret Style menu in the Ranch House, and will apply to all slimes of that type. Largos will take active options into account.
Gordo Slimes, Tarr Slimes, and plorts are not affected by the Secret Style Pack.
Secret Style Slimes
Slime
Description

Sparkly Slime
A glittery and glamorous style for pink slimes

Heavy Metal Slime
Years of rolling polished this rock slime style

Angelic Slime
An even more beautiful and radiant style for phosphor slimes

Tiger Slime
A wilder, stripier, tabby slime style

Radiant Slime
A rad slime style that cranks the gamma rays to eleven

Arcane Slime
A very magical but still very explosive boom slime style

Royal Jelly Slime
A honey slime style that's even tastier on toast

Lilypad Slime
A style with a lovely flower that's nurtured by its puddle slime

Ruby Red Slime
A sparkling style that really turns up the heat for crystal slimes

Cheshire Slime
A positively mad style for hunter slimes

Monochrome Slime
Unlock a door to another dimension with this quantum slime style

Devilish Slime
A slightly sinister style for fire slimes, or perhaps devil-lite

Nebula Slime
A swirling, whirling, inter-galactic style for dervish slimes

Nightshade Slime
Don't eat the flower on this tangle slime style, even for three mana

Shattered Slime
An array of suspended desert glass captures this mosaic slime style

Pre-Jellasic Slime
A style fashionable with the great-great-great grandaddy of saber slimes

Boomerang Slime
A quicksilver slime style with no weakness, save for the time stopper

Retro Slime
ØⱠᗪ 5CⱧ00L gӀìէçհ §Ⱡiᘻe

Old School Glitch Slime

Gilded Slime
An elegant and winged gold slime style that you will hardly ever see

Guardian Slime
Good fortune comes to those that see this lucky slime
Secret Style Largo Charts
Pure Secret Style
This chart shows all of the slimes that are largo-able with Secret Styles completely active.
Combined
This chart shows each of the slimes that are largo-able with both their combined standard and secret style variants.
Changelog
1.4.0 - Implemented. Will only be active if the DLC has been paid for and downloaded.
Trivia