For the guide on standard wild Gordo locations, see: Gordo Slimes/Locations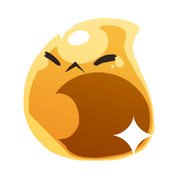 This page lists all 11 wild Gold Gordos found in Rush Mode. This guide assumes that the World Map has been filled in in their respective zones using Map Data Nodes.
All Gold Gordos require three Gilded Gingers to burst, and will drop 10 Gold Slimes and three Crates with random loot.
Dry Reef Entrance
Ring Island #1
Ring Island #2
Ring Island #3
Feral Path
Ash Isle #1
Ash Isle #2
Ash Isle #3
Ancient Ruins entrance
End Steps
Hobson End Temple Interior
Trivia
Three Gold Gordos sit in locations where entrances to The Vaults are located in Adventure Mode.
Community content is available under
CC-BY-SA
unless otherwise noted.