Rush Mode is a Game Mode which focuses on racing against the clock to earn as many Newbucks as possible from collecting and selling Plorts. It was introduced in the Mochi's Megabucks update and is the successor to Five Day Rush.
Starting off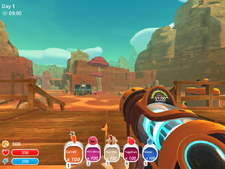 The player is started off with 51 in-game hours, or three in-game days with which to complete the challenge, and how much time left is tracked by the timer on the Augmented Vacpack. The Ranch House door is uninteractable, meaning Starmail is also disabled and time cannot be skipped. Hobson Notes are also absent.
The large gate in The Ancient Ruins courtyard is already open so does not require collecting plorts, and the teleporter to The Glass Desert is already active; however the Slime Gate there is still present and requires a Slime Key. Fountains and oases are inactive, and require activation.
The absence of Hobson Notes makes it impossible for the player to reach the end game credits. Because of this The Vaults stay deactivated and are instead replaced with Gold Gordos.
The player has maximum Vacpack upgrades from the start, including those normally earned through the 7Zee Rewards Club:
Water Tank
Jetpack, for limited flight
Air Drive for 20% reduction of Energy cost to use the Jetpack
Ultra Dash Boots, for reducing the Energy Cost of sprinting.
Pulse Wave
Tank Booster Ultra, for 100 units of storage for each vacpack slot
Heart Module Ultra, for 350 Health
Power Core Mk III, for 250 Energy
Treasure Cracker MK III, to open all Treasure Pods up to Purple quality.
Golden Sureshot, for triple Gold Plort drops from Gold Slimes without Gilded Ginger.
Ranch Expansions and Slime Science

The player has access to all of the Ranch's expansions including The Lab, and do not need to purchase them beforehand to utilise them. However the teleporters to Mochi's Manor, Ogden's Retreat, and Viktor's Workshop are absent, meaning they cannot be accessed.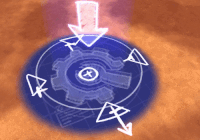 Despite The Lab being accessible, the Refinery, Blueprints Shop, and Fabricator are all completely uninteractable, and the Refinery will reject resources, making the fabrication of new gadgets impossible. However a select amount of Gadgets are available by default:
Range Exchange

Instead of awarding random loot like Adventure Mode, trading with other NPCs at the Range Exchange will award six Gilded Gingers used to burst Wild Gold Gordos, and 12 additional in-game hours of play time.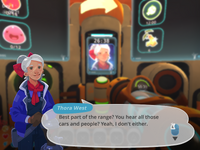 Similarly to Adventure Mode, what resources are requested is dependent on the NPC. Thora West - the first trade - will request very basic resources, but later NPC requests are not limited by Slime Gates, so in order to successfully complete these requests, having as much access to the map as possible will greatly increase chances of satisfying the requirements and maximising time. After completing a trade, a new one will become available at noon the next day. Assuming all the trades are satisfied, time can be extended from Day 3 at noon to Day 5 at noon.
Plort Market
The Plort Market works much the same as it does in Adventure Mode. However all Plorts go by their default values and do not reset at midnight, so will not rise or fall on a day-to-day basis.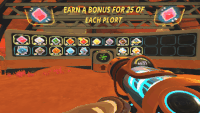 If 25 of a Plort type is deposited into the Plort Market, a bonus will be awarded on completion of the challenge, signified by a yellow border around the plort and a yellow star on the right hand side of the icon. Most plorts give a 5% bonus, except for fire plorts, quantum plorts, mosaic plorts, tangle plorts and dervish plorts, which give a 8% bonus each.
Since there are 16 plort types, 16 multipliers can be applied, for a maximum bonus of 95%. The Plort Bonus is applied to the ending Newbucks balance at the end of the Rush Mode run to determine the Final Score.
Treasure Pods
For the locations of Treasure Pods, see: Treasure Pods
The player has access to the Treasure Cracker MKIII upgrade, meaning they are able to open every Treasure Pod they come across. Instead of dropping their standard loot, Treasure Pods award Newbucks when opened.
Gordo Slimes
Standard Gordos
Wild Gordo Slimes are found in the same locations as Adventure Mode, with some key differences:
Pink Gordos require 20 units of food to burst.
The Tangle, both Rocks, and both Tabby Gordos are all sitting on top of teleporters and are always full-to-bursting, so will burst after consuming only one food unit.
All other Gordos require 30 food, with favored foods counting as two.
Gold Gordos
Main article: Rush Mode/Gold Gordo Locations
As well as the 16 standard Gordo Slimes, throughout the map are naturally-occuring Gold Gordos. They exclusively eat Gilded Gingers which are acquired from the Range Exchange, and three of them will burst a single Gordo; so a single trade can potentially burst two Gordos. When burst, it will spawn 10 Gold Slimes and three Crates.
Knockout
Main article: Knocked Out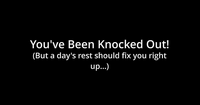 When the player is knocked out, 10% of their total Newbucks is deducted, their inventory is lost, and will respawn back at the Ranch House. Time will advance an hour, rather than the standard minimum of 12.
Time's up!
When time is up, the splash screen appears which documents highest-earning plorts, and shows which plorts awarded a multiplier bonus. After the splash screen is closed, the game file becomes inaccessible, but displays the day and final amount the game ended on.
Achievements
There are three achievements directly associated with Rush Mode:
Trivia
The minimum value earned from depositing 25 of every Plort, excluding the starting 500 and without bonuses, is 22,140
It is not possible to receive a trade request from BOb.
Despite the achievement descriptions saying that the player must acquire a certain total of Newbucks, the game actually instead checks the final score, after Plort Bonus is applied.