For the achievement earned through this action, see: Achievements
A Pounce is an non-hostile action certain slimes can perform where it stops to wiggle before making a jump in either the player's direction, or towards food.
When a slime makes contact with the player by pouncing, it is referred to as a boop.
Variations
There are currently three variations of the action performed by different slimes.
Tabby Slime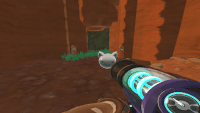 The Tabby Slime performs the most basic form of the pounce. Due to it being a common slime, and being the the first slime that performs it that players will ever encounter, it is most well known for it.
Hunter Slime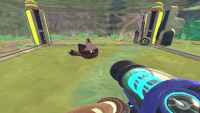 The Hunter Slime's variant is much the same as the Tabby Slime's, only it cloaks itself when doing so.
Saber Slime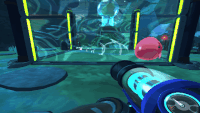 The Saber Slime is capable of bouncing off walls in order to change direction in midair towards its intended target.
Tips
Harmful largo variants of Tabbies, Hunters, and Sabers are still able to perform a pounce, turning an otherwise cute behavior into a dangerous one.
Allowing a Tabby Slime or Saber Largo to pounce at Beatrix unlocks the Boop! Achievement. Hunter Slimes/Largos, and pounces used to jump at food do not count towards this achievement.
Gallery
Changelog
This section or article is incomplete.
Reason:
When were Saber Hunters patched to behave appropriately?
You can discuss this in the article comments or edit this page to improve it.
(Unknown) - Saber Hunter largos now appropriately go invisible when readying a pounce.
Before 0.2.0 - Implemented.
Trivia
All slimes able to pounce all belong to the Feline Slimes category.
The second jump Saber Slimes make is internally referred to as "parkour".