m

Line 20:
Line 20:
 

==Gallery==

 

==Gallery==

 

<gallery>

 

<gallery>

 
+

PondWithPuddles.png|A pond is at maximum plort production capacity when it has a [[Slime Toys|Rubber Ducky]].

 

PondOld.png|Historical image of the pond.

 

PondOld.png|Historical image of the pond.

 

PondOldWithSlimes.png|Ditto, with higher graphics settings and holding placeholder [[Puddle Slime]]s

 

PondOldWithSlimes.png|Ditto, with higher graphics settings and holding placeholder [[Puddle Slime]]s
---
Revision as of 15:19, 7 October 2018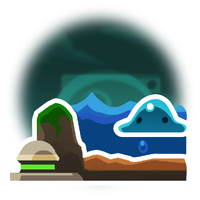 "Water you going to do with this?"
A Pond is a facility available at any plot on The Ranch, Ogden's Retreat and Mochi's Manor. Ponds can provide a convenient source of Water, and can be used to house Puddle Slimes.
A pond gives you a source of unlimited fresh water on the ranch that you can use for watering gardens, calming slimes in a corral, defeating tarr, or giving your puddle slimes a place to hang out and feed.
Default
Pond
Pond


"Water you going to do with this?"


Price: 450
Gallery
Changelog
1.0.1 - Ponds now produce infinite water.
Before 0.2.0 - Implemented.
Trivia
The Pond's texture is themed after The Moss Blanket.
There are natural bodies of water which serve a similar purpose to ponds in The Docks and Mochi's Manor. However this should not discourage the use of purchasable ponds, since Puddle Slimes cease Plort production when there are too many Puddle Slimes in the immediate area.
Before Ponds were updated to be an unlimited source of water, the Slimepedia used to mention that the pond's water can be consumed if vac'd or drunk by Puddle Slimes. It also mentioned that the pond would refill immediately when it rains, however this feature was never implemented, and the statement was eventually removed.
Community content is available under
CC-BY-SA
unless otherwise noted.