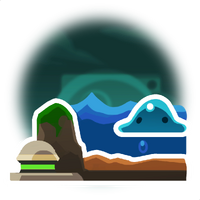 "Water you going to do with this?"

A pond gives you a source of fresh water on the ranch that you can use for watering gardens, calming slimes in a corral, defeating tarr, or giving your Puddle Slime a place to hang out.
A pond will slowly be consumed if vac'd up or drunk up by puddle slimes, but will slowly refill over time. You can transfer unused water from your vacpack to the pond, and they will refill immediately when it rains.
Cost: 450

Uses
The pond's only known uses so far are:
When using water from the pond the water level inside will deplete. It will also deplete when drank by puddle slimes, but it will slowly increase overtime. Ponds will also refill if Puddle Plorts splash along the bottom.
Notes and Tips
Ponds can hold up to one-hundred units of water and replenish one unit per 6 hours naturally.

Additionally, players can refill themselves a pond by shooting water into it.

If the Vac-pack's water tank is full of water and the player continues to use suction, the pond will still deplete water.
Gallery