"
The most common fruit found on the Range, and some say, the most delicious.
"
 
The Pogofruit is a fruit and is one of the most common foods in the game, along with Hen Hens, and Carrots. They are one of the first foods a Rancher will encounter.
About:
Pogofruit are a common sight almost anywhere on the Far, Far Range. Tasting a bit like a peach, they're most notable for having their trademark spots both on and under the skin.

On the Ranch:
Deposit a pogofruit into a garden's depositor and you'll grow a large pogofruit tree of your very own.
Tips
The Pogofruit is the most common and most accessible fruit in the game and is very helpful for feeding Fruit-eating slimes, such as The Phosphor Slime or the Honey Slime. However because no Slime favors it, it will never produce double the number of Plorts.

For this reason, it may be unwise to grow Pogofruits unless you don't yet have access to favored foods.

Their larger harvest yield compared to more valuable foods may be suitable as burned food for Fire Slimes.
Pogofruit are fairly abundant in The Overgrowth once it is unlocked; 3 hanging Pogofruit trees are located there.
Map
Note that while these locations are precise, they may be on different elevations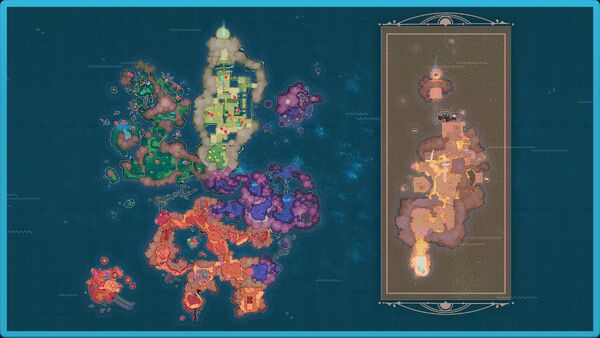 Gallery
Changelog
1.3.2 - Adjusted fruit and veggie growth to make sure they're always ripe when entering a certain secret area.
1.3.1 - Fixed an issue where fruits and veggies would almost always be unripe in an area that you haven't visited in awhile.
Before 0.2.0 - Implemented.
Origin
The Pogofruit may be based on pomegranate. Its name may be based on Pogo Fruit, a fruit which appears to be native to Borneo.
Trivia
They share many characteristics with Carrots and Hen Hens, such as having larger yields and not having a slime that favors them.