"
Plucked from a tree rooted in the...past? Future? Or...?
"
 
The Phase Lemon is a fruit found in The Ancient Ruins and Viktor's Workshop.
Phase Lemons can be found on incorporeal trees found throughout the ruins which appear in specific spots which change on a regular basis, and a singular static tree can be found in Viktor's Workshop after unlocking it for personal use. Phase Lemons can be tricky to get since the trees require fruit shot at them to phase them into reality, but can only do so when ripe and will disappear instead of pop off once ripened. Alternatively, they can be found in crates found in The Ancient Ruins.
When grown in a garden, the tree is physical and the lemons can be harvested like any other crop.
About:
A phase lemon comes from a different place and time. They are like an echo, reverberating through the halls of the Ancient Ruins, never staying in the same place for long.
In order to harvest phase lemons a rancher must pass fruit matter through the phase lemon tree when lemons are present. This process somehow removes the fruit from our reality and phases in a lemon in exchange.


On the Ranch:
Deposit a phase lemon into a garden's depositor and you'll grow a large phase lemon tree of your very own.
Map
Note that while these locations are precise, they may be on different elevations.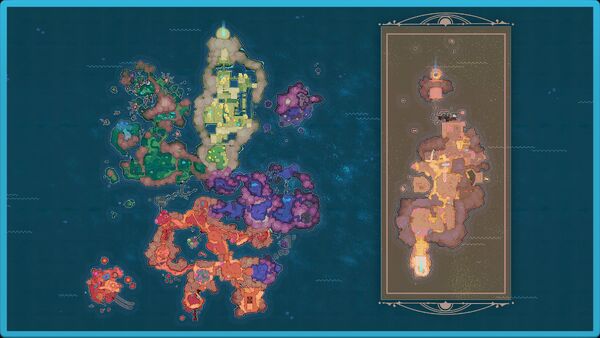 Gallery
Changelog
1.4.2 - Fixed an astrophysical anomaly that was causing phase lemons to shrink in size.

Also fixed a similar anomaly that was preventing phase lemon trees from casting shadows.

1.4.0 - A static ethereal Phase Lemon tree has been added within Viktor's Workshop.
1.3.1 - Fixed an issue where fruits and veggies would almost always be unripe in an area that you haven't visited in awhile.
1.3.0 - Fixed bug where when phase lemon trees in the ruins were watered, they would get overly excited and phase repeatedly.
1.1.0 - Phase lemon trees planted in gardens will now act like normal fruit trees and not require phasing the lemons into reality. We altered the way space and time worked in order to make this QOL change. No big deal.
0.5.0 - Implemented; they have a maximum harvest of 20 and Fruit is required to harvest them when ripe.
Origin
The Phase Lemon's name and behavior of requiring fruit to be shot at incorporeal trees to solidify them references phase transitioning; the act of turning a state of matter - solids, liquids, gases, and plasma - into another. It may also be a reference to author and Professor Emeritus Don S. Lemons, who studies primarily in plasma physics. The Phase Lemon's Slimepedia entry refers to the concept of time travel and parallel universes. The Phase Lemon itself physically resembles a lemon, in particular the common supermarket Eureka variety which can be produced all year round.
Trivia
Overall, there are 27 specific locations across The Ancient Ruins where an incorporeal phase lemon tree may be found. A maximum of 10 trees are present at any one time during an in-game day.
The prototype name for the Phase Lemon was the "Leap Lemon", and originally used the Prickle Pear model as a placeholder.
Phase Lemons are the only fruit that cannot be "traded" for other ripe Phase Lemons on incorporeal wild Lemon trees.
Phase Lemons appear to have the same particle effect that Quantum Slimes have when they are agitated and about to teleport.

Rotten Phase Lemons continue emitting their particle effect.

Unlike most other fruit/vegetable slimepedia entries, the Phase Lemon's entry doesn't state how it tastes. Though it can be assumed that they taste similarly to regular lemons.
Phase Lemons have teal colored leaves on their stem, while other fruits have green leaves.
Prior to Update 1.3.0, Phase Lemon tree nodes would sometimes continuously emit their teleporting particle effect. Splashing a Phase Lemon tree unaffected by this phenomenon with water would either cause it to teleport away normally, or become bugged.