The subject of this article is only available during time-limited events so may or may not currently be available in Slime Rancher.
Please read this article for full details.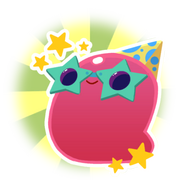 The Party Weekend is an ongoing event which was introduced during the Party Gordo Update, and runs every weekend from Friday all through to Sunday, local time. The event features new Ornaments, with different ornaments dropping from week to week.
Event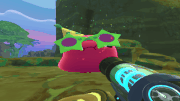 Throughout the Far, Far Range, the Party Gordo will appear in a specific spot for all players once every weekend which requires 10 of any food item to burst. When burst, it drops four Pink Slimes that don the Party Gordo glasses and hat, one rare ornament and eight party crates which exclusively drop ornaments, totaling 9 ornaments from the gordo. It does not appear again until the next weekend.
While the event is active, Crates have a 50% chance to be a party crate instead until the event ends for that week. Any Party crates left over from a weekend will only drop Pink Ornaments, or a Rare.
Party Gordo Locations
For Party Gordo locations from past years, see Party Weekend/2018 and Party Weekend/2019
For past Party Gordo locations from 2020, see Party Weekend/2020
Recent location
Note: Common ornaments have a 5% chance to be a rare Ornament instead; Lucky, Tarr, Gold, Rainbow or Party Gordo Ornament. Party Gordos will always drop a rare when burst.
Date & Biome
In-game
Map
Common ornaments available
Week 105:
May 22 2020 to May 24 2020

The Dry Reef
Crystal OrnamentTangle Ornament
Trivia
This is the second time-specific event introduced to the game, after Wiggly Wonderland.
This is the longest event in the game to date.

30 locations are detailed in the game's code, however, only 29 are used by Party Gordos. 1 location is unused. That location is labelled as "DEBUG" instead of having a number assigned to it.

Party Crates can remain after a Party Weekend event; finding and opening a party crate on a date outside of party weekend will always yield a Pink Ornament or a Rare Ornament.
A Halloween-themed Party Gordo event ran from October 30th 2019 to November 1st 2019, and a standard Party Weekend event immediately followed from November 1st 2019 to November 3rd 2019, making November 1st 2019 currently the only date to have overlapping Party Gordos and Ornaments; having two Party Gordos active at their respective locations, and three different standard ornaments available alongside the usual 5% rare ornament drop on this date.