The subject of this article is only available during time-limited events so may or may not currently be available in Slime Rancher.
Please read this article for full details.
"
Collectible decorations for your ranch!
"
 
Ornaments are small spherical decorative items first introduced in the Wiggly Wonderland update, with a second batch introduced in Party Gordo Update, and three more added with The Optimization Update. There are currently 38 different designs available in the game.
Ornaments behave much like Echoes and Chimes, in that they float in place when shot from the Vacpack.
Any ornaments obtained will remain after their associated event is over, and can be kept.
Slimepedia Entry
About:
Ornaments are unique decorations which can be found in party crates or during special events. There are dozens of different ornaments to find and collect, but only a handful of designs seem to be available at any one time. They're fun to collect but... who is making all of these ornaments and hiding them around the Far, Far Range? Probably best not think about it too much.
On the Ranch:
Ornaments make great decorations for any part of your ranch. Vac them up and shoot them wherever you'd like. They stick to just about anything and can even float in midair!
Acquisition
Ornaments are exclusively obtained from time-limited events.
Wiggly Wonderland
Main article: Wiggly Wonderland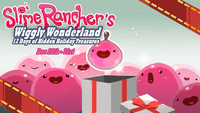 The first fifteen ornaments were introduced during the
Wiggly Wonderland (2017)
event, which ran from
December 20th
to
January 1st
.
Party Weekend
Main article: Party Weekend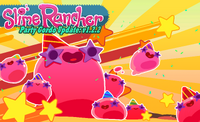 Twenty more ornaments were added in the
Party Gordo
update which introduced the
Party Gordo
and its associated party-themed crates which appear while the
Party Weekend
event is active. Two ornament types were made available per week, with a low chance to receive a rare ornament instead.
Ornaments
Community content is available under
CC-BY-SA
unless otherwise noted.