"
A tubular mix of colorful spuds.
"
 
The Oca Oca is a veggie found exclusively in The Indigo Quarry.
About:
A staple of cooking on the range, the hearty Oca Oca is a naturally salty, soft spud. As the key ingredient to the always tasty 'rancher's hashbrowns', they have likely been the fuel for a great deal of slime wrangling since their discovery on the range.

On the Ranch:
Deposit an Oca Oca into a garden's depositor and you'll have a large Oca Oca crop of your very own.
Tips
Oca Ocas grow consistently with a decent harvest yield, so having Rad Largos are a decent choice for the Ranch.
Map
Note that while these locations are precise, they may be on different elevations.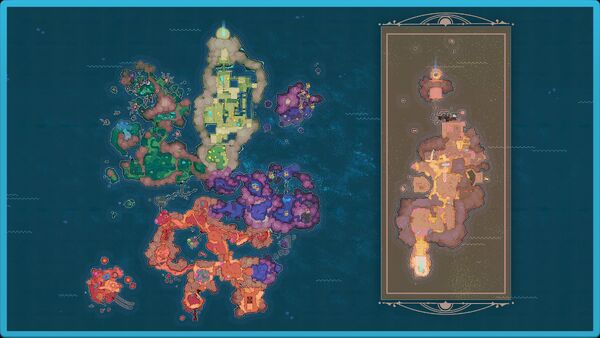 Gallery
Changelog
1.3.1 - Fixed an issue where fruits and veggies would almost always be unripe in an area that you haven't visited in awhile.
0.3.1 - Fruits and veggies and fruit trees have received a lovely makeover and are now more visually distinct. The cuberry tree is now cube-shaped because science.
0.3.0 - Implemented.
Origin
The name "Oca Oca" may be based on the "Oxalis tuberosa", otherwise known as the Oca or New Zealand Yam; a stem tuber that was introduced in Europe in the 1800s as a competitor to the potato. In appearence, Oca Ocas resemble stem tubers with the coloring of a potato, supported by the Slimepedia tagline - "A tubular mix of colorful spuds.". Rad Slimes having the Oca Oca as their favorite food may be based on the well-known potato battery often created in educational settings, since potatoes are among one of the foods that can produce low levels of electricity under the right conditions.
Trivia
Its Slimepedia icon depicts what the Oca Oca looked like before its graphical update, although the color was updated after their in-game models were changed.
References