"
Intensely sweet with a cool, minty finish.
"
 
The Mint Mango is a Fruit found exclusively in the deepest sections of The Moss Blanket along with Cuberries.
About:
The mint mango is perhaps the sweetest fruit ever discovered. Its appearance is that of a mango, with a thicker, syrup-like juice, and a bright, minty aftertaste. It's no wonder Honey Slimes seek them out or that they have such amazingly fresh breath.

On the Ranch:
Deposit a mint mango into a garden's depositor, and you'll grow a large mint mango tree of your very own.
Map
Note that while these locations are precise, they may be on different elevations.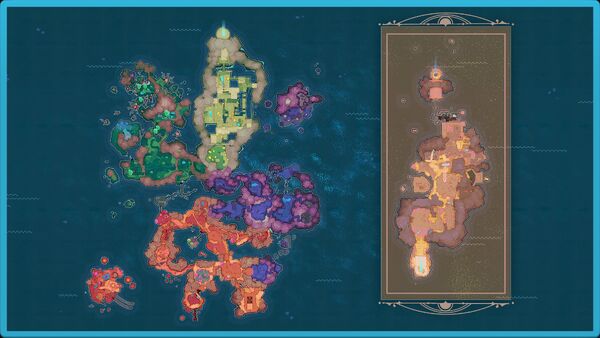 Tips
Mint Mangoes are found in in the same areas as Honey Slimes. Be wary as they may be accompanied by Boom Slimes, or even The Tarr due to the variety of slimes that inhabit the area.
A majority of the Mint Mango trees in the Moss Blanket are hanging trees. Be on the lookout!
Mint Mangoes grow consistently, have a decent harvest yield and the Honey Plorts are fairly valuable, therefore Honey Largos are a great choice for the Ranch.
Gallery
Changelog
1.3.1 - Fixed an issue where fruits and veggies would almost always be unripe in an area that you haven't visited in awhile.
0.2.0 - Implemented along with The Moss Blanket.
Origin
The Mint Mango may be a play on any number of culinary recipes featuring both mint and mango. Its Slimepedia entry - It's no wonder Honey Slimes seek them out or that they have such amazingly fresh breath. - may be a reference to toothpaste, commonly flavored with mint to encourage its use. Physically, it is a mango with green skin; green is commonly associated with mint.
Trivia
The Slimepedia icon for the Mint Mango still resembles what they looked like before their graphical update.
Community content is available under
CC-BY-SA
unless otherwise noted.