A Knock Out, commonly referred to as a death, is an event that occurs when health reaches 0, or when falling into The Slime Sea or the sand sea.
A Knock Out is never permanent, however the time lost due to a knockout can be catastrophic to The Ranch since slimes will be heavily agitated. If laid out poorly, it can even lead to Tarr outbreaks.
Time skipping
When knocked out, a black splash screen will appear. The inventory will be lost, the player will be respawned back outside the Ranch House, and time will skip for a minimum of 12 hours ending at 6am on a subsequent day. If knocked out any time between 6pm to 5:59am, the entire next day will be skipped to 6am the following day. The splash screen disappears when time stops skipping, and will hand back player control.
Slime hunger and agitation, food growth and decay, chicken breeding, plort production and decay, and Drone charge consumption will all be advanced along with the skipped time. Slimes continue to behave in real-time while the skipped time affects their behaviors, so will be heavily agitated when the time-skip period ends; agitated slimes will begin performing negative behaviors, if applicable.
Item preservation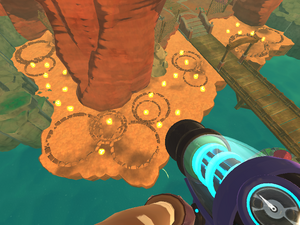 Under normal circumstances, there is no way to keep all items held in the vacpack's inventory. However a maximum of 6 items per slot can turn up at The Docks shoreline if it has been purchased.
Item preservation is determined by the following calculation:
(minimum between 6, and ((number of items in the slot)/2) rounded down)
The following items are kept on knock out:
The following items are not kept on knock out:
Perishables such as plorts and food will continue to decay during the time-skip period after a knockout, and may despawn during this time.
Rush Mode
Main article: Rush Mode

In Rush Mode knock outs behave a little differently; 10% of total Newbucks is deducted, the inventory is lost and select items will spawn at The Docks, and the player is respawned back at the Ranch House as normal. However instead of the standard minimum of 12 hours, time advances one hour.
The Slimeulation
Main article: The Slimeulation

A knockout while inside the Slimeulation will not count as a true knock out. Instead, you will be respawned within Viktor's Workshop with no time-skip and a clear inventory.
Changelog
1.4.2 - Fixed an issue where the autosave icon wasn't appearing when the game autosaved after a rancher got knocked out.
Trivia
The time-skip period can be recorded with the use of the GIF capture feature on PC once the player is given back control. GIF capture omits the HUD, which also omits the splash screen.
Gold Plorts cannot be legitimately retrieved on knockout in Adventure Mode or Casual Mode, due to their despawn time of 6 hours and minimum time-skip period of 12 hours. Due to the 1 hour time-skip of Rush Mode, it is only possible to retrieve Gold Plorts in Rush Mode.