This page is about fountain and plort statue locations. For the locations of oases, see Oasis/Locations
This page lists all of the Fountains and their associated Plort Statues currently available in the game. Each fountain has three statues of a single slime type. The Jetpack is necessary to be able to activate all of them.
If the favored food of these slimes have been obtained beforehand, Gordo Snares can be used to catch the Gordos of these slimes, saving the need to manually try and collect plorts in sequence of availability.
Map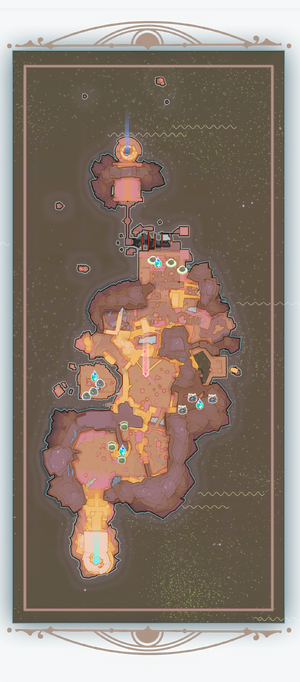 Tangle Plorts
Fountain
Tangle Plort Statues
Tangle Slimes can be found either by popping the Tangle Gordo, or restoring the Rock Fountain and feeding the Tangle Slimes that spawn from the oases in that area.
#1
#2
#3
Rock Plorts
Fountain
Rock Plort Statues
Rock Slimes can be found spawning in modest amounts along the path leading to the the area containing the Tangle Gordo.
#1
#2
#3
Mosaic Plorts
Fountain
Mosaic Plort Statues
The Jetpack is necessary to get to this island.
Mosaic Slimes can be found by bursting the Mosaic Gordo, by the Treasure Pod containing the Cocoa Slime Lamp, or will spawn in abundance once the Tangle Gordo area's oases have been restored.
#1
#2
#3
Dervish Plorts
Fountain
Dervish Plort Statues
Dervish Slimes are found infrequently throughout the desert until certain oases have been restored. Alternatively, the Dervish Gordo can be burst.
#1
#2
Scaling the wall (shown behind) and then using the Jetpack is recommended to be able to reach this plort statue.
#3
Scaling the wall surrounding the fountain is recommended to be able to reach this plort statue.