For the common harvest nodes that provide water, see Water Springs.
"
The desert is a harsh place for sure, but there are little pockets like this where life is waiting to flow back into the soil, and reach toward the clouds.

Of course, it might happen a little faster if you give it a helping hand. Use that noggin, Beatrix!

"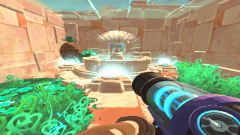 "Life is waiting to flow back into the soil."
Fountains are a series of structures found exclusively in The Glass Desert. They are the main source of Water in the desert, and the game's only source of Ancient Water. There are currently four Fountains in the game.
Usage
When initially visited, they are inactive. They can be activated by looking for three Slime Statues nearby - which represent a certain type of slime - and depositing their associated plort into it. When all three statues are active, the fountain will activate and will be able to grant the player the Ancient Water effect by sucking water from it, although a Water Tank is essential to be able to do so. Ancient Water can be used to rejuvenate Oasis buds into fully fledged oases. You have 30 seconds to plant oases until the water tank will have normal water again.
Fountains can also be used to instantly refill your vacpack's water tank.
Trivia
The Tarr can be damaged on contact with Fountains.
Ancient Water can dispatch Tarr in one shot, regardless of the time of day.