Cut Content
The content of this page does not exist in Slime Rancher in current versions, but this article is kept for historical purposes.
The Five Day Rush, also referred to as 5 Day Rush or abbreviated to 5DR, was a special game mode where the player had to earn as much 

 as possible using any means at their disposal. It was introduced in The Indigo Quarry Update and was subsequently replaced with the more fleshed-out Rush Mode.
Starting off
The player would be started off in front of the door of the Ranch House, and were started off with no Vacpack upgrades, and Ranch Expansions were locked off to the player just like Adventure Mode. However unlike Adventure Mode, the player was started off with 500

instead of 250

. The Ranch House door was interactable and it was possible to skip time using Sleep Until Morning, however Starmail was disabled.
Range Exchange
Instead of awarding random loot like Adventure Mode, trading with other NPCs at the Range Exchange would award the player with three Gold Plorts, worth 900

.
After completing a trade, a new one will become available at noon the next day. Assuming all the trades are satisfied, a maximum of 4,500

can be earned by trading.
Plort Market
The Plort Market worked much the same as it does in Adventure Mode. However all Plorts went by their default values and did not reset at midnight, so did not rise or fall on a day-to-day basis.
The Lab, Slime Science, and Treasure Pods
For the locations of Treasure Pods, see: Treasure Pods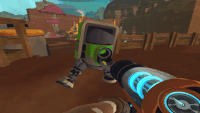 The Lab was still purchaseable for 10,000

and all of the machines required for Slime Science remained fully functional, meaning it was still possible to invest resources into it, create gadgets, and unlock Treasure Crackers required for opening Treasure Pods which were still present throughout the world. Doing so was not monetarily viable however as it was not only expensive, but the Treasure Pods would only award their Slime Science-related standard loot.
Gordo Slimes
Wild Gordo Slimes were identical to their Adventure Mode counterparts, including being found in the same locations.
Knockout
When the player got Knocked Out, 10% of their total Newbucks were deducted, their inventory was lost, and would be respawned back at the Ranch House. Time would advance an hour, rather than the standard minimum of 12.
Time's up!
The game ended on Day 6 at noon and would present the player with a small splash screen telling them their results; the game tracked how much money was earned via Plorts and how much money was spent on Plot costs and Upgrades to Beatrix. After this their save file was then disabled and the player could no longer access it, but their final amount was presented on the game file's Load screen.
Achievements
There were three achievements directly associated with the Five Day rush:
"5-Day Challenger": collect 10,000  by the end of the Rush.

This Achievement was renamed Rush Challenger
Anyone who earned these Achievements in Five Day Rush retained them when they were converted to Rush Mode.