Fear is an emotion Slimes can experience which causes them to flee from whatever is scaring them.
Slimes experiencing fear are able to jump higher than normal, and any Slimes stacking with one another while experiencing fear will break their stacks. Fear wears off naturally as long as nothing prolongs it, and is unaffected by Hunger or Agitation.
Sources of Fear
There are multiple sources which can cause slimes to experience fear.
The Tarr
Main article: The Tarr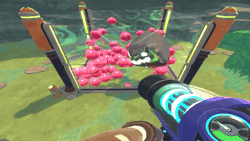 Tarr are the most common source of fear for slimes, appearing frequently in the wild in areas where slimes often cross-contaminate. Coralled slimes jumping while experiencing fear during a Tarr outbreak are capable of breaking their corral's Air Net, if one is installed.
Digitarr and Tarr Rifts
Main article: The Tarr#The Slimeulation
The Digitarr and their rifts that appear in The Slimeulation are both capable of inflicting fear on slimes.
Scareslime
Main article: Garden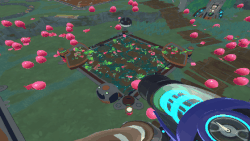 A Garden's Scareslime is capable of inflicting fear on slimes that wander near the plot. While a slime is still able to eat food from the plot, they will try to steer clear of the garden.
Portable Scareslime
Main article: Portable Scareslime
Much like the Scareslime, the Portable Scareslime is capable of inflicting fear on slimes that wander too close, keeping a wide berth from the gadget. Its intended purpose is to keep slimes away from certain areas.
Fire Pillars
Main article: Solar Anomalies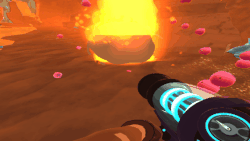 The Fire Pillars which erupt from the ground in The Glass Desert during a Solar Anomaly can inflict fear on both pure Slimes and Largo Slimes. In addition, contact with the pillar will cause a sharp agitation spike.
Gallery
Changelog
1.4.0 - Slimes got a facelift! The art tech we developed for the Secret Style Pack resulted in all slimes getting new, crisper, more detailed faces with added depth. The new, beautified faces are available for every rancher with this update.
0.6.0 - Added Solar Anomalies along with the rest of the Glass Desert; Fire Pillars can inflict Fear on small slimes.
0.3.3 - Slimes that are actively fleeing Tarrs will now attempt to break up their slime stacks, because when things go south, it's every slime for themselves.
Before 0.2.0 - Implemented.
Trivia