The Digi Panel is a player-created Decoration gadget crafted at the fabricator at The Lab.
Acquisition

The Digi Panel blueprint is found in a Purple Treasure Pod in The Slimeulation.
Due to it being contained in a Purple Treasure Pod, it requires the Treasure Cracker Mk III to open it.
Usage
The Digi Panel can be placed in any Gadget Site. Since it is used as decoration, it has no immediate functional use.
Like most decorations it can be stood on, so can potentially be used in conjunction with the Jetpack to reach high areas.
Gallery
Trivia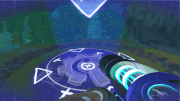 Contrary to the Digi Panel's icon which depicts one of the "windows" as being its front, the true front of the Digi Panel decoration is actually at its side - where neither of the windows are present.