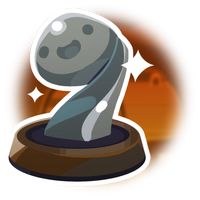 "Be the best rancher, but do it in style."
Decorations are a class of purely decorative gadgets found almost exclusively in Treasure Pods.
Decorations can be categorised as either slime lamps, or props themed after particular zones which their respective Treasure Pod is found in; Dry Reef themed decorations are found exclusively in The Dry Reef Treasure Pods, for example.
Despite having no functional use, taller decorations may be used in conjunction with the Jetpack to gain additional height before expending energy on flight.
Slimepedia Entry
Decorations are a class of Slime Science gadgets that allow you to decorate the world with attractive objects or recreations of natural findings from the environment.
Craft decorations in order to make your slime ranching a more beautiful experience!
Gadgets
Slime Lamps
Tips
Since decorations take up a building space, one should consider whether or not a space is going to be used for Extractors, Utilities, or Warp Tech in the future.
The Slime Lamps, Glow Cones, Fireflower Patch, Glow Sticks and Crystal Sconce each produce some light, which can be useful in caves.
Many of the taller decorations are solid, so they can be placed in convenient spots to allow for easier jumping or to get to a tall treasure pod.
Changelog
1.4.0 - 6 new decorations from The Slimeulation were added.
1.2.0 - 6 new decorations from Nimble Valley were added.
1.1.0 - 7 new decorations from The Wilds were added.
0.6.0 - 8 new decorations from The Glass Desert were added, and 4 new slime lamps.
0.5.0 - 6 new decorations from The Ancient Ruins were added.
0.4.1 - The red, blue and pink slime lamps are now obtainable.
0.4.0 - Addition of them and Slime Science into the game. Some decorations like the red, blue and pink slime lamps are unobtainable.
Trivia
While Gray Slime lamps have the Tabby's face, and Butterscotch Slime lamps have the Quantum's flickering, Cocoa Slime lamps don't have the Hunter Slime's face.
All decorations have no use aside from pure aesthetics; if a decoration has a use aside from this, it'll be a utility, such as the Potted Tactus as it can be sticky.
Despite being able to build the Sponge Tree, the Mossy Tree, the Sunburst tree, the Palm tree, the Peach Cloud tree, Nimble Needle Tree, and the Digitree you cannot build the Ash trees from Ash Isle in The Indigo Quarry.