The subject of this article is only available during time-limited events so may or may not currently be available in Slime Rancher.
Please read this article for full details.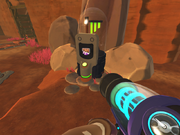 The Chime Changer is a facility introduced to The Ranch next to the Decorizer in the Wiggly Wonderland 2019 update which is unlocked during the event, but will remain once it is unlocked.
Its purpose is to change the instrument of Chimes. Pressing the button on the front cycles through all unlocked instruments, which applies to all chimes at once.
AcquisitionEdit
The Chime Changer appears when unlocking the Piano instrument, acquired from bursting a total of two Twinkle Slimes. Save files that already have Chimes present prior to the update's introduction, or burst the Twinkle Slime and obtained Slime Singing on the 30th, need only burst one.
InstrumentsEdit
The following instruments each have audio files associated with each chime.
Tables have been collapsed by default. Click [Expand] to open their tables for their audio files.
Marimba is the default instrument for Chimes.
Piano is the first instrument to unlock after obtaining Chimes.
GlockenspielEdit
Glockenspiel is the second instrument to unlock after obtaining Chimes.
Music BoxEdit
Music Box is the third instrument to unlock after obtaining Chimes.
Kora is the fourth instrument to unlock after obtaining Chimes.
Slime SingingEdit
Slime Singing unlocks on December 30th, regardless of how many instruments have been unlocked prior.
ChangelogEdit
1.4.1 - Introduced Piano, Glockenspiel, Kora, Music Box, and Slime Singing. The default noise is now referred to as Marimba.