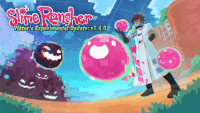 The Update 1.4.0, also known as the Victor's Experimental Update is an update released on June 18th 2019 for PC, PS4, and Xbox.
It includes a new area, The Slimeulation, as well as Glitch Slimes and digital variants of Tarr. It also includes the Secret Style paid DLC.
Full details of the update can be found here.
Trending pages
All items (24)