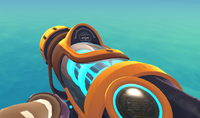 The Augmented Vacpack is a variant of the Vacpack that is equipped automatically at Mochi's Manor after speaking with Mochi for the first time. It is a product of the Miles Tech company, said to be owned by Mochi and her father. It is used for the Nimble Valley activity, and is the only known way to contain Quicksilver Plorts, the electricity needed to produce them, and to slow them down. It will reject plorts other than Quicksilver Plorts.
In Rush Mode, the augment is equipped automatically and tracks the time left until the challenge ends, but otherwise behaves like the standard Vacpack.
Slots
In Adventure Mode and Casual Mode, the Augmented Vacpack has its own inventory seperate from the normal vacpack, which only has three slots as opposed to four; five with the water tank upgrade. Unlike the normal vacpack, the slots are unaffected by Tank Booster upgrades and each slot has a designated purpose:


Slot 1 has a capacity of 250 units, and holds picked up Quicksilver Plorts.
Slot 2 has a capacity of 100 units, and stores Spark Shots, the most abundant and standard ammo for use against Quicksilver Slimes. The slot is cleared when using the teleporter to leave the valley.
Slot 3 has a capacity of 3 units, and stores special Charge Station charges used to help produce more plorts. The charges include the Thunderclap, the Static Clinger and the Slooow Field. Like Slot 2, it is cleared when leaving the Valley.
Upgrades

Main article: Vacpack#Upgrades
The Augmented Vacpack uses all purchased standard vacpack upgrades and the 7zee Upgrades, except the Tank Booster upgrades, so are applied to the Augmented Vacpack as normal.
Gallery
Changelog
Trivia
The dial on the back of the vacpack which visually shows the vacpack's suction pressure and how full a slot is, does not function while the augment is active in Mochi's Manor and Nimble Valley, and during Rush Mode.
Community content is available under
CC-BY-SA
unless otherwise noted.