The Advanced Drone is a player-created Utility gadget crafted at the fabricator at The Lab. Unlike most other utilities, placing it down does not require a two-minute installation cooldown before it can be used, nor can it be installed anywhere outside The Ranch and its expansions.
A maximum of two Drones, regardless of type, can be installed in each Ranch expansion. Due to this, a maximum total of 16 Drones can be used at any one time. In addition, they can be recolored using the Tech Chroma Pack, and can have Fashion Pods applied to them.
Acquisition
The Advanced Drone's blueprint is available from the Tier 2 trade with Viktor at Viktor's Workshop, requiring a cumulative sum of 460 Bug Reports, or 360 Bug Reports by itself.
Usage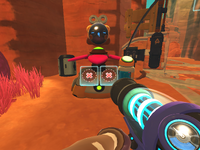 The Advanced Drone, much like its standard counterpart, is designed to assist with jobs on the ranch and its expansions. What sets the Advanced Drone from the standard Drone is that it can be programmed with two jobs instead of one, and can alternate between either job.
When placed down, it is not programmed to perform any tasks and will remain idle on top of the flower until it is programmed. The Drone station has a button with which to program the Advanced Drone and has a water gauge which indicates how much charge the Advanced Drone has left before it stops functioning. When the water runs out, it will finish any tasks before going inactive. It is not necessary to program it with two jobs for it to function; it will function with just one job.

Programming the Advanced Drone requires that it be given three tasks to execute for each of its jobs: Target, Source, and Destination. All three tasks must be given to it for each job - and then activated - for the Advanced Drone to function. The Advanced Drone has a single inventory slot of 50 units to perform tasks, and it will only be active as long as it can perform either of the tasks it has been assigned. Likewise, if it cannot access its Destination(s) after performing a task - such as a Silo getting demolished when its destination is set to storing items in a Silo - it will drop its cargo before deciding whether to go back to its flower or attempt another task. If their target food is already in an autofeeder, it will prioritise filling them over empty auto-feeders.
The water gauge can be completely refilled by splashing it with a single unit of Water or Ancient Water, and if the Advanced Drone is sleeping on the flower and has tasks that can be completed when splashed, it will wake up and resume them. The water will deplete in 28 hours regardless of whether or not the Advanced Drone has been active. If the Advanced Drone runs out of charge during a task, it will finish it prematurely to go back to its flower. If an Advanced Drone becomes stuck during its task, it will temporarily utilize noclipping to become unstuck.
Programming
Target

The Target option tells the Advanced Drone what it will focus on collecting.
The Advanced Drone can collect Plorts, Veggies, Fruit, Meat, and Elder Chickens. In addition, it can be programmed to target a specific item from any of the aforementioned categories, such as a Mint Mango, or a Mosaic Plort.
Once an Advanced Drone has a target, the top right readout when hovering the crosshair over the Advanced Drone will indicate the category of items it is programmed to collect.
Source
The Source option indicates where the Advanced Drone will gather the resources it is set to collect from.
When Plorts or a specific plort is selected, it is capable of collecting from Corrals, Ponds, Incinerators, Silos, Plort Collectors, and Free Range.
Note: If an Advanced Drone is programmed to collect from Silos, Silos will not be an available option in Destination.
Destination

The Destination option tells the Advanced Drone what it is to do with the resources it has acquired.
Example
This is an example of a programmed Advanced Drone; it has been programmed to collect Carrots from a Garden to burn them at Incinerators, and its second job is to pick up the Fire plorts to sell them at the Plort Market.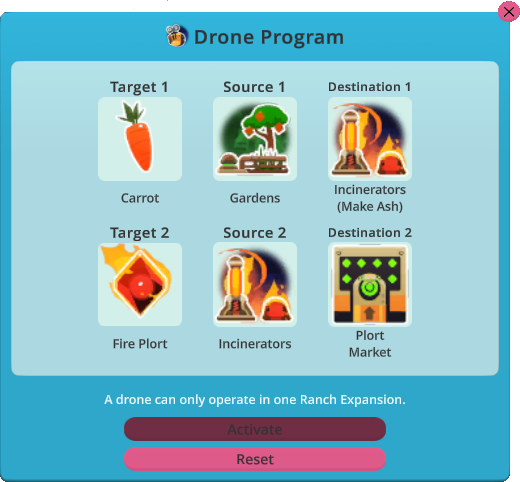 Changelog
1.4.0 - Implemented.

1.4.0b - Fixed an issue with Advanced Drones program assignment.
1.4.0d - Fixed a Drones catch-up issue with Mochi's and Ogden's ranch.
Trivia
Prior to release, the roadmap's blurb about the Advanced Drone stated:
These new-and-improved drones can handle not one, but TWO programs! Talk about advanced! Set a primary AND a secondary task to keep these busy bees busy while you're busy being breezy.